---
Minesweeper
A free, online minesweeper game written in Javascript for gamers and programmers
How to play: Its just like regular minesweeper!
You must have javascript and cookies enabled.
If you are running an ad popup program, disable it first or permit requested popups from this site.
If you are using a Mac or a one-button mouse, use the space bar to mark bombs.
To all my Minesweeper players: Please support my Kickstarter campaign!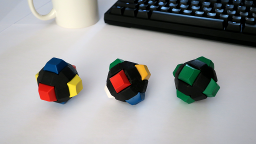 Its a stress/fidget toy made from real mechanical keyboard switches.
Support minesweeper by supporting my Kickstarter project
(This isn't a sponsorship, it really is my project, with my family and me in the video. Ends May 25th 2017.)
Use the game's menus for options, instructions, technical notes, and high scores.
The best way to bookmark a page is to +1 it. Google gives you great tools to search your +1's, better than a browser's built-in bookmarks.
I wrote this in 1997 as a way of learning Javascript, originally for Netscape and IE 4.x. The standards have moved on since then but with only a few tweaks the game continues to work well in modern browsers.
Recent changes and news:
January 19, 2014: Each year I look back at the stats. This year for the first time I've included the hot linking, and wow there is quite a bit. In 2013 there were 20 million games played. Put another way - if a productive work year is 2,000 hours then this site was responsible for 177 man-years in 2013.
March 24, 2013: You can now zoom in and out from the options menu, and the world records page shows the total number of games played on this site.
March 23, 2013: Thanks to Dustin Yoste for the suggestion and sample code to make the space bar also open surrounding cells for satisfied number cells. Space can also be used as the opening click. Especially useful for one button Mac users.
March 11, 2013: New features! You can now press "P" to pause the game, point and press "H" to get a hint, and the new "Disarm" option works like an undo. If you win using either Hints or Disarm it won't count towards your high scores, but you will get a pirate face.
March 5, 2013: I wrote a tool to determine how frequently a beginner board can be solved with a single click.
Janury 29, 2013: We are now up to 7.5 million games each year on this site, up 5 million over just three years ago. Also I'm ditching the ad network junk, the Interstitials were just too painful.
July 15, 2012: I'm starting the process of cutting over this app to the minesweeper.me domain. For now it is just redirecting, eventially it will be hosting. I also plan on making a bunch of launch points to support more modern devices, not just desktops.
June 9, 2009: Thanks to Carl Zulauf for putting together a Palm Pre version. It has a nice solution for switching into "Flags On" mode for devices that don't have a right click or space bar.
January 1, 2009: We're serving up 2.5 million games of MineSweeper each year, just from this site. I don't know how many games are played via various dashboard widgets, PSP versions, mirrors, and mobile phone versions, but based on community feedback it dwarfs this site's traffic. Wow. Thanks everyone.
December 19, 2008: Thanks to Josh Morris for fixing several display problems with running Patrick Conant's OSX Widget in Leopard. You can get it here.
October 15, 2007: Thanks to iMineSweeper for using Javascript Minesweeper for a Apple iPhone and iPod Touch version.
October 2, 2007: Apple has removed the OSX Dashboard Widget by Patrick Conant but you can still get it here.
February 19, 2007: Thanks to Ryan Oksenhorn for a sleek skin update to the (old link) OSX Dashboard Widget.
September 1, 2006: We've moved! Finally, moved from comcast.net to a host with a bit more reliability and speed.
December 22, 2005: Javascript Minesweeper was dugg [digg.com]. (Actually it was dugg a while ago, but I just found out)
July 30, 2005: Thanks to makarman who has included Javascript Minesweeper in the ( old link) PSP JavaScript Homebrew Portal
June 8, 2005: Thanks to Patrick Conant who transformed Javascript Minesweeper into an OSX Dashboard Widget
If you want to use/redistribute Javascript Minesweeper, that's great, just add a link back to my site. You can download the source code here. Contact me to get the latest-and-greatest source code and so I fix any issues on new platforms. My email is on the About page within the game.
---
The Wikipedia Minesweeper page does a better job than I of maintaining links to other minesweeper resources.
collegehumor.com made an awesome Minesweeper movie. A must see for all serious and bored Minesweeper players.
---

This work is licensed under a Creative Commons Attribution 3.0 Unported License.
---
Written by D. Shep Poor 1997-2017
Based on Microsoft Minesweeper (Win 3.1 edition) Copyright © 1981-1995 Microsoft Corporation